What We Do
Neurotherapy is a scientifically holistic treatment founded and developed by Dr. Lajpatrai Mehra in the 20th century. The drug free therapy is based on the ancient knowledge of Nadi Vigyan. This therapy is totally based on the principle of bringing harmony between organs. Neurotherapy believes that a disease is an effect of hyperfunction or hypofunction of one or more organs, which leads to imbalance in the chemical binding of the body. Neurotherapy restores the balance by activating or deactivating the affected organ.
Testimonials
न्यूरोथेरेपी एवं आचार्य श्री रामगोपाल दीक्षित जी के प्रति स्वयं के अनुभव व्यक्त करते हुए आदरणीय श्री नितिन गडकरी जी, सड़क परिवहन एवं राष्ट्रीय राजमार्ग मंत्री, भारत सरकार।
Neurotherapy has brought self-dependence and self-confidence to everybody who is looking to get the good health and wealth.
Neurotherapy Points
Since the LMNT technique addresses itself to reducing the pains in and around the navel, it stands to reason that even for the same person, the treatment protocol will necessarily have to change after a few days, depending upon his pain points for that day. This is exactly what makes Neurotherapy so unique. Likewise, the same treatment may be required to be given to different persons with different ailments, but who have the same pain points.
Neurotherapy Classes
LMNT is a unique and original therapy. If Offers a medicine-less cure for all ailments. It uses different types of techniques to stimulate the internal organs directly and weed out the very roots of the disease from the body. It may appear to be similar to acupressure, but in reality it has nothing in common with acupressure or any other known form of alternative therapy.
Neurotherapy Benefits
Neurotherapy can help improve anxiety, depression, stress, attention, insomnia, chronic pain, substance abuse, stress, headaches, trauma and brain injury. Neurotherapy can also improve functioning in people with developmental disorders such as Autism Spectrum Disorder, learning problems, and intellectual disabilities.
Medicine-less therapy
Being a medicine-less therapy, It obviously has absolutely no side effects.
01
Scientific
The therapy is scientific because its method can be repeated over and over again, with identical results.
02
Pressure points
Involve stimulating pressure points along energy lines that run through the body.
03
One therapy for all
The same results can be duplicated – irrespective of the therapist's age, sex, height, body-weight, etc..
04
Loved By Our Customers
Our Customer are our priority. we believe in providing best services to them.

Mrs. Priya Mhatre
Consultant
My Self Mrs. Priya Mhatre an I am a Parent of Master Priyansh Mhatre we had a very good experience taken from Dr. Balveer Kumar As my Child was not walking properly He had a faul duri ring Playing games on that result he was not standing and walking for few minutes only. Now my son taking treatment from Dr. Balveer Kumar and now my son waking so well and Standing so long after 10-12 days of treatment. Now we are so happy. thanks

Nice experience with Dr lajpatrai mehra's (Guruji) neurotherapy practicing lot of thanks our beloved Guruji🙏 inventing this amazing therapy

Mr. Kaviraj Gunjal
New Patient
Taking treatment from Dr Suraj Dhawan. Feeling more energetic everyday. I would highly recommend Neuropathy treatment over any other pathy as it helps to recover naturally without any medicine. No side effects. This is good for everyone.

Mr. Karan Jejurkar
Manager
Very effective treatment. Had lower back pain problem. Took the treatment for around 2 months and now no pain.Without any medications!!

Surabhi Limkar
New Patient
Neurotherapy is the best treatment i was ever experienced. Dr. Suraj really treated me very well. And now I'm living a healthy life because of him. Thank you so much for the good treatment and behaviour in my journey.

Hemangi Ballarkhede
New Patient
To anyone suffering from physical pain. I would encourage you to go weekly (at least) for 2 months, its really helpful!!!....... It's actually a natural therapy without any medicines......Great results!!.....Do definitely visit Dr.Lajpatrai Mehra Neuropathy Health Care centre,Kothrud.....

Arun Ballarkhede
New Patient
Great experience by Dr.Suraj Dhawan......I was suffering from knee pain,the treatment given by him was actually amazing!!! And after 2 months of treatment I'm feeling very much better and my X-ray reports are clear now!!

Vedant Limkar
New Patient
I strongly recommend this neurotherapy center for taking treatment from Dr. Suraj if u suffering from physical as well as Mental illness Neurotherapy is fantastic as it deal with internal medicine generation from body, No require external medicine

when go for picnic, feel excited but after that tired but with Neurotherapy treatment feel relaxed & much better than picnic + curing illness without medicine. I recommend one should visit.

SATISH BANJARA
New Patient
Nice experience with Dr lajpatrai mehra's (Guruji) neurotherapy practicing lot of thanks our beloved Guruji inventing this amazing therapy
Testimonial
S.N.D.T Women College Principal Ji Share Experiences About Neurotherapy One Day Camp Karve Road Pune

Meet the Team
Meet the faces behind our Dr.lajpatrai Mehra Neurotherapy, Kothrud. Our team offers the most up-to-date Neurotherapy treatments. We work so hard to provide best to our clients.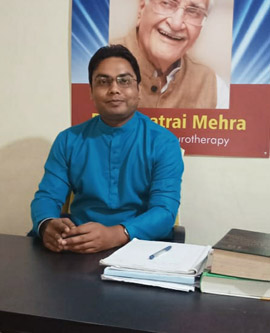 Mr. Balvir Kumar
Neuotherapist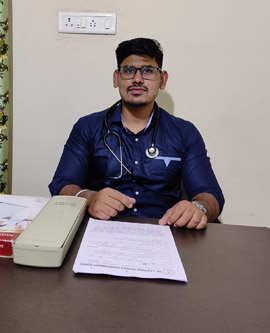 Mr. Suraj Dhawan
Neurotherapist & Health Consultant
Looking for treatment?
By experience over the years, Dr. Mehra has located 16 specific points of pain around the navel and the hip. Removal or reduction of one or more of these pains results in a sense of well-being, which is confirmed by the patient. Cure is effected when this duration of the feeling of well-being becomes progressively longer and longer until the person is totally free from all his symptoms. Backed by study of physiology, Dr. Mehra has correlated combinations of these pain points with different symptoms associated with different diseases.